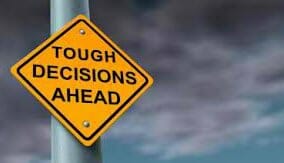 The year of tough decisions. Would you be willing to commit your year to making all the tough decisions in your life if you knew the following year could be a game changer? We all have hard decisions in life to make (leaving our job of 10 years to get promoted, selling our beloved home to move to a better school district, postpone vacations to pay off credit cards, lose 40 lbs. to be healthy again) but we usually postpone these year after year convincing ourselves that things will just work out. Guess what, they rarely do on their own. And if and when they do work out, it's rarely the outcome we wanted. I have learned that if I just take my beating now, make the decisions no one wants to make but I know need to be made if I am to provide for my family, I will reap the benefits in the years to come. 2011 is my personal case study in how committing one year to making all the tough decisions weighing me down changed my life forever.
Like others, I look forward to every New Year with thoughts of prosperity and achieving new goals. Thoughts of changing the quality of life for my family and realizing a state of self-actualization. 2011 was no different.
Background so you can appreciate the difficulty of the 3 tough decisions.
We (my wife and 3 kids under 5) were living in downtown Atlanta in historic Grant Park. We had lived in this house for 10 years and were featured on the Grant Park Tour of homes several times. We had great neighbors and loved the urban lifestyle and walkability– neighborhood restaurants, Braves games, Zoo Atlanta and Grant Park. As the receccesion of 2008 materialized over 2009 and 2010, our neighborhood began to feel the impact with crime rising to an all-time high. Smash and grabs (kicking in a door to grab your flat screen TV) were a daily occurrence in broad daylight, 2 rapes and 1 fatal shooting, all within 1 mile of our house. In conjunction, I had sold my company to a private equity firm and was bound by a 3 year noncompete and had secured a new job in property and casualty insurance sales as a way to reinvent myself. Selling insurance was not on my list of careers I thought worthy of my MBA, but it offered a way to provide a good living for my family and I couldn't help but think God had placed this opportunity in my life for a reason. A reason unknown to me but I had faith and have always believed the key to being successful is taking each day as it comes and committing to make the best of every situation. I knew something had to be done quickly about our living situation as I could never live with myself if anything happened to my family as a result of doing nothing. It was Christmas 2010, our house had been on the market for 9 months with no offers despite the $90,000 drop in sales price. Knowing what needed to be done, I dedicated 2011 as the "Year of Tough Decisions." I was going to make every hard decision that was preventing me from achieving the life I wanted for me and my family.
Tough Decision #1: Move and move now
Knowing we had to move and move quickly, we didn't have the luxury of waiting for our house to sell and buying another. We also didn't have the means to buy a 2nd house and carry 2 house notes. The only option we had was to move our entire crew to live with my mother-in-law in Franklin, TN (suburb of Nashville – country music capital of the World). On paper it made sense. My mother-in-law had 4 empty bedrooms and had been widowed since early 2008. Living with her also gave us the option to short sell our house, eventually losing the $130,000 of equity and actually writing a check when all was said and done. Trust me, besides kissing $130,000 goodbye, living with your mother-in-law is not what a 36 year father of 3 wants and definitely not something he wants his friends to know about. Call it ego, but I take pride in providing for my family and take it personally if I can't give them the basic necessities in life. As I discussed with my wife over several weeks, we agreed it was the right thing to do although it would be extremely hard; hard for everybody. We knew we'd be uprooting our kids from their friends, leaving our friends behind as well, and essentially trading in our urban living for the traditional suburban living we had loathed for the past 10 years. With ego in check, we loaded the moving van and moved to Franklin, TN. Oh, we were also pregnant with kid #4 too.
Tough Decision #2: Find a new job
Moving to Franklin greatly impacted my sales prospecting for Q1 of 2011, which I and my boss knew it would. I was splitting my time between Franklin and Atlanta. As part of agreement to continue my employment during the relocation, I agreed to drive to Atlanta every 2 weeks and spend 3 days in the market working my existing Atlanta pipeline. When in town, I would rotate staying on the couches of friends to avoid incurring any hotel expenses. I had rented a small office in Franklin and had quickly joined Rotary and various organizations to establish credibility in the community. 3 months into the business plan, my employer reduced my salary 35% despite the previous commitment to supporting the middle TN market building for the entire year. With kid #4 only 6 weeks away, this was devastating news but exactly what I needed. Although this was exactly the push I needed, it was not part of my plan. I had met some amazing people in Franklin but stayed loyal to my employer knowing they had supported me on the move. It was a leap of faith on their part and I wanted to be true to my commitment. With the big pay cut and providing for my family at risk, the gloves were off and I was hell bent to find a new job and never looking back.
I spent 6 months researching, prospecting and interviewing for a new job/career. I was careful not to jump ship for promise of a greener pasture without thoroughly doing my homework and knowing it was the right move. I told a few employers my income goal for year 3 and I couldn't get the math in their business plan to support my goal so I kept looking (many questioned why I was not jumping at the chance to work with them). I not only found a new job; I found a new career and a new me. I was able to leverage my property and casualty experience into healthcare and secure a sales position with a technology company that focused on Workers' Compensation (WC) reimbursements for Healthcare Providers. In short, they use their proprietary software to ensure hospitals are paid 100% of what insurance companies owe them for treating injured workers. Their focus on WC has been an industry game changer and I feel fortunate to have been part of that journey.
The joke in Nashville is there are only 2 types of jobs: music and healthcare. I couldn't sing or play music so that left only healthcare. Never in a million years would I have dreamed selling insurance would prepare me for healthcare. But that's the beauty of God's plan. We don't have the wisdom to see or even understand his plan but if we truly have faith, it will bring us riches beyond our dreams. With new career in hand, I meet my year 3 income goal by end of year 2 and exceed my old Year 3 goal by 38% by end of 2013. And now I ask myself, why I didn't do this sooner.
Tough Decision #3: Find a good home for our Mastiff
We are big time animal lovers, often to our detriment. In college I had spent my summer savings to get my dog 3 root canals. Who even knew they did root canals for dogs. For my entire 40 years of existence on this planet, only 4 years have I not had a dog in my life. When my beloved German shepherd (Harley) was nearing his retirement, we were advised to get a new dog with the wisdom being it would help spark new life in Harley and help the new pup learn the rules. With crime ramping up in our neighborhood, we wanted another German shepherd so badly but knew we didn't have the time these highly motivated dogs require. After counseling with others, we decided to get an English mastiff. We wanted a large dog to scare off potential intruders but also one that was great with kids. Being one that does his homework and takes no decision lightly, I found the perfect brindle English mastiff. The dog's father was an astounding 260 lbs. and the breeder was reputable. A small fortune and last minute warnings issued, we were on our way to mastiff ownership. The dog (Tug), rather a small pony, was a dream and perfect for our kids. 6 months into his life he was diagnosed with a rare genetic leg deformity. Tug's rear legs spiraled in, forcing him to walk like a duck and unable to jump, climb stairs or even run. We spent another small fortune taking him to an orthopedic surgeon only to learn there was no treatment. Not only was there no treatment, but he stressed repeatedly the kids could not hang on Tug and get him excited (watching him try to run was tear jerking). I called the breeder for her thoughts and she offered to take Tug back and give us another puppy in return (basically disclosing Tug would be put down if we returned him). Needless to say, that was not something we could live with. We spent the next 6 months doing our best to keep the kids off Tug and limiting his movements which became increasingly difficult as my wife's pregnancy impacted her cat like reflexes. Committing myself to do what needed to be done and yet what no one wanted to do, I contacted the Mastiff Rescue Society and mapped out with them a plan to find Tug the perfect home – a home with no steps, no small children that would try to ride him like a pony (he was now 170 lbs.), and one that knew the full price of mastiff ownership (constant drool, 40 lbs. of dog food/week, etc…). With their help, we found a family that had recently lost their mastiff, had 3 teenage boys and lived in a 1-story ranch home.
With my wife and kids gone to see a movie, I arranged for Tug to move to his new home. It was one of the hardest things I had ever done. I was conflicted. On one hand, I knew it was best for Tug and would allow him to walk unassisted longer without the kids prematurely crippling him inadvertently through their roughhousing play. On the other hand, I knew my kids would be devastated and my wife and I would feel guilty, feel like we got rid of Tug because he was physically challenged even though that was the furthest thing from the truth. The more I thought about it and prayed for guidance, the more I resolved to doing the right thing and dealing with the consequences. Truth be known, had I made this decision when the surgeon first advised me of the dangers of Tug living with small children, things would have been so much easier. 6 months after I made the tough decision, the kids were completely self-absorbed with their new school and extracurricular activities. My wife was consumed with the care of Eskew #4 and I was committed to making my new career a big success.
As 2011 closed out, I had no regrets. Well, just one regret. I regret I didn't make these tough decisions earlier and had waited until I was pushed into a corner. On reflection of my handling of these matters, it can be boiled down to:
I committed to take action on every hard decision in my life and resolved to accept the consequences for those actions, for better or worse. The key was I took action and refused to let someone or something determine my future.
I committed not to make excuses for not big successful and not to blame anyone else for my current situation. I was the one to blame in 2011 for my 35% pay cut. Had I done everything in my power to be successful, I could have impacted the conversation with my employer differently.
The decisions I made were not easy and brought much pain, anguish, guilt and even thoughts of 2nd guessing. I stayed the course and knew I couldn't compromise my belief or resolve to do what needed to be done. We all know what needs to be done but most of us don't have the belief in ourselves to make them. If we believe that failure is not an option and we will do whatever it takes to make the best of a bad situation, we will experience a life we never thought possible. Dare to make the tough decisions today!
ABOUT SHAY
Shay is an All American and World ranked triathlete, burn survivor with scars over 65% of his body and is a sought out national motivational speaker. Despite being told he'd never compete in sports again at the age of 8, Shay is living testament to "Anything is Possible": 4x Ironman, 4x member of Team USA, ranked top 1% of Ironmen worldwide and has competed in 9 triathlon world championships, including the Ironman World Championships in Kona, Hawaii. His mantra has always been to not merely be a "finisher" but to be a "competitor." If you enjoyed this article, I encourage you to check out my other posts.