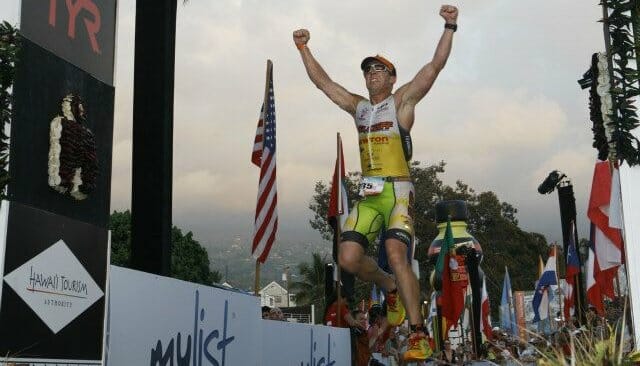 We all have lofty goals and dreams for what we hope transpires in the new year.
Truth: few will ever commit 100% to make them happen.
Truth: few are willing to risk failure and commit every spare moment to make those dreams a reality.
What are you going to do to make your goals a reality? If your life drastically changed next week, would you be able to say that you had truly committed everything to achieving your dreams – no regrets? I can. My goal going into each year is to be able to say without hesitation that if my working/athletic career came to an end, I have no regrets. I gave it my all.
One shot
In 2012, I achieved a life goal – competing in the Ironman World Championship(2.4mile swim, 112 mile bike and a 26.2 mile run, all in 10hr 45min). Just finishing an Ironman in the allotted 17 hours has never been a goal of mine. However, finishing in the top echelon amongst the world's best was. I wanted to finish in the top 50% at the World Championships – only 1900 out of 90,000 are even invited to compete. On paper it seems doable. But…
What if you couldn't sweat on 1/3 of your body and couldn't quit sweating on the other 2/3 of your body – burn scars over 65% of my body make regulating body temperature in extreme heat a challenge.
What if you suffered severe dehydration and urinated blood before you even ran the marathon portion in every hot race in the past – and this race would be even hotter?
How did I finish in the top 50% of the World's hardest one day endurance event? I relied on the wisdom of the notorious Marshall Bruce Mathers III, rapper Eminem:
"Look, if you had one shot, or one opportunity

To seize everything you ever wanted. One moment

Would you capture it or just let it slip?"
Like the movie 8 Mile, I knew I had just one shot, one opportunity to seize everything I ever wanted. Some called me crazy (co-workers, peers, even family members), but I knew what it would take and refused to let the naysayers deter me. I also knew this was God's plan for my life.
8 steps to achieving a lifetime dream:
I sat down with my wife and mapped out what it would take to transform my body into peak fitness (20-25 hours a week in addition to working a full time job). Luckily, my wife was an active part of my past Ironman races and knew this was a life goal. She knew I was committed to making it a reality. You're insane if you don't think a supportive spouse has a huge impact on your success. Goals require a FAMILY commitment. To make up for the long 6-7 hour Saturday workouts, I gladly served her breakfast in bed Sunday and Monday mornings.
I contacted every major triathlon manufacturer of equipment I used and asked for their support. I told them my story of getting burned, being told I'd never play sports again and how I was racing in the Ironman World Championships and was going to train like a Pro… and hopefully have all the advantages the Pros have (i.e. great equipment). Surprisingly, many gladly supported my cause (Newton Running, Trek Bicycles, Under Armour, Louis Garneau, CompuTrainer, First Endurance nutrition, Kill Cliff recovery drink).
I spent 5 months calculating my sweat rate at specific heart rates (race pace). I weighed myself 5x a day for those 5 months (when I woke, before a workout, after a workout, at lunch and when I went to bed) and I measured how much water I consumed during workouts. I precisely calculated my sweat rate at 5lbs per hour at race pace in race heat conditions.
I engaged a local nutritionist to review my caloric intake and water loss to determine how much fluid, electrolytes and calories would be needed for me to race at maximum effort without shutting my body down. What's crazy is she did it for free when I shared my dream with her – thanks so much Mari-Etta Parrish!
Based on my desired fluid intake, I'd have to drink 4 gallons during the race. To do so, I trained my stomach to absorb 1.5 liters of fluid every hour for 10 hours. Drinking this much water for this period of time while exercising is not normal. It took over 3 months of training my stomach to process this much fluid without feeling bloated. Painful but necessary process.
I consumed race nutrition for every workout for 4 months leading up to the race. I wanted to make sure my stomach could handle the necessary calories and not have any adverse reactions. I ate the same thing for breakfast almost every morning for those 4 months – 2 frozen blueberry waffles and a cup of Starbucks coffee. I also ate the same thing every night before my big 7hr training workouts – Little Caesars pepperoni pizza. Call me boring, but I wanted no surprises.
Based on my heavy sweat rate, I had to train my body to sweat less if I wanted to maintain the race intensity. I spent the last 3 weeks of training doing 1hr each morning and each night of heat acclimation. I would heat my workout room in my house to 100 degrees, put on thermal underwear, sweat suit, toboggan, gloves and ride my bike. It was miserably hot but I eventually learned to block it out and enjoy the time. When I traveled for work, I carried a floor heater, my racing bike and my CompuTrainer (indoor bike trainer). I would then heat my hotel room to 100 degrees, layer up and pedal away. I always got lots of stares in the hotel… if they only knew.
Lastly and equally important, I engaged all of my friends in my journey and openly asked for their help. They not only helped; they jumped at the chance to be a part of my story. One of my best friends (Brian Feeney) not only designed my race kit, but he also flew to Kona to cheer me on. Another friend (Chris Stalcup) donated an entire weekend of his film crew to make a series of promotional videos to help me raise money. A high school friend (Jimmy Powers) called to say he could get his PR firm to assist. Another high school friend (Matt Caldwell) stepped up to be a major sponsor (Caldwell Insulation) featured on my race kit. A man I had met at Starbucks in Atlanta (Joel Shapiro of Timbervest) introduced me to Kill Cliff and collectively they were my biggest sponsors. Sheryl Crow, the singer-songwriter Sheryl Crow, contacted me and actively promoted my story on her Facebook page. Countless friends bought my fundraising shirts and made personal donations to support my cause. I was simply blown away by the generosity of everyone. Just think, none of these things would have happened had I played it safe and not committed 100% to making my dream a reality.
What will this year be for you?
Will it be another year of doing what you've done every year and praying that by a sheer miracle you achieve something life changing?
If you truly commit to making a difference, you can make it the GAME CHANGER YEAR, the Year you redefined what was possible. May this year bring you prosperity. But more importantly, may it bring you a greater recognition of your abilities and the courage to pursue them with complete freedom and confidence that you can do anything.
ABOUT SHAY
Shay is an All American and World ranked triathlete, burn survivor with scars over 65% of his body and is a sought out national motivational speaker. Despite being told he'd never compete in sports again at the age of 8, Shay is living testament to "Anything is Possible": 4x Ironman, 4x member of Team USA, ranked top 1% of Ironmen worldwide and has competed in 9 triathlon world championships, including the Ironman World Championships in Kona, Hawaii. His mantra has always been to not merely be a "finisher" but to be a "competitor." If you enjoyed this article, I encourage you to check out my other posts.