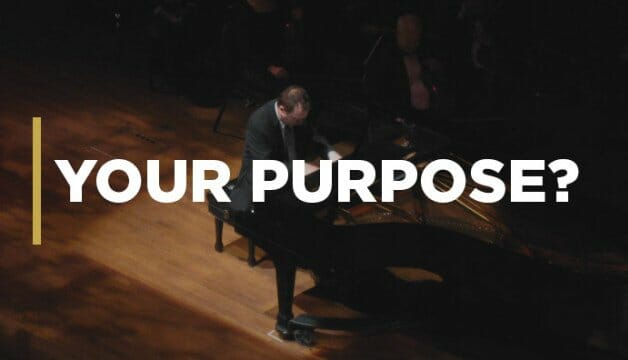 What is your purpose?  What motivates you?  What keeps you up at night wondering what if… or if I do this I can ….?  What gives you the satisfaction of knowing you performed at your absolute best? Is it being the top performer at work, the most active mom/dad in your kid's school, fastest runner in local 5K, coaching your kid to a regional soccer championship?  Winning and achieving feels great, short term wise, but it's the satisfaction of something larger – your PURPOSE, that really provides the lasting fulfillment.
Purpose is the higher calling we all aspire to know.  I truly believe I'm here on this earth for a specific reason and I was equipped with certain skill sets and given specific life experiences to allow me to fulfill my calling. Sadly, many do not feel they have a higher calling and struggle aimlessly for purpose in their life.  The big question people often ask me is
How do I find my purpose?  It's simple – FOCUS!
By FOCUS I mean identifying what makes you happy in life, mapping out activities that will provide you happiness and then articulating what steps you can take to experience happiness.  If you can't articulate in writing what makes you happy, then you will never fully know if what you're doing daily is contributing to or detracting from your overall happiness.  Even worse, loved ones unknowingly could be wasting their time and talents pursuing nonfulfilling things on your behalf.  Here are some simple steps to get you started on FOCUSING on what really matters in your life.
1.  Define your passion: This is not to be confused with your career and it should be something you pursue with no monetary consideration.  Pursuing your passion, whether it's playing the piano or riding your bike, should be a complete escape where you are alone with your thoughts and able to experience complete release – free of stress.  If you can't narrowly define your passion to a single or a few activities, your life will suddenly become "too busy" and you will always find excuses for not having time for yourself.  Everyone is busy but successful people figure out how to do the things that matter most and avoid the things that don't.
To be a complete person, you have to take care of yourself and you have to be selfish with your time.  Intentionally or unintentionally, people will rob you of your time and leave you feeling overwhelmed.  Taking care of yourself should be your 1st priority and it will allow you to fully give to others.  My passion is physical fitness.  I truly believe it is a blessing to be able to walk on my own accord and be able to do any physical activities.  As a kid I lost a lot of my physical abilities, some permanently and some temporarily, and I vowed to never take them for granted.  As a result, I carve out 1-2hrs a day for physical fitness and make sure nothing deters me.
Life happens and emergencies will pop up, but you can always find a way to get in some exercise even if it's only 15 minutes – most recently I was able to do squats and lunges in an ER holding room while waiting on my wife's test results.  Don't make excuses and don't take things for granted!  Refusal to do so will provide a life without regrets and allow you to truly appreciate all the miracles of a meaningful life.  When you truly commit to pursuing your passion, others will see it glow in you and wonder what you're doing.
2.  Define your purpose: Take a serious assessment of your skill sets, your beliefs, your life experiences and think about why you are here on this earth. Is it to educate and mentor youth?  Is it to build a company that will change the lives of impoverished communities?  Maybe it's to care for the sick. Your purpose will and should define your daily actions.  If you don't know your purpose, your daily activities will more than likely be consumed by fruitless activities and leave you wandering uninspired.  As you reflect on the beginning and close of each day, ask yourself "what will or have I done to satisfy my purpose?"  If you can't answer this question, then you need to re-evaluate what you're doing every day.
My purpose is to inspire, to love and to pass on my legacy to my children.  To inspire is to help others realize we all possess unique gifts and those gifts may be disguised as a handicap.  Helping others realize their gifts also means helping them embrace patience.  Contrary to what the world teaches, our greatest gifts rarely produce instantaneous gratification but usually are the culmination of experiences over years and sometimes even decades.  As one who seeks to inspire, my mission is to always provide those in despair with a silver lining to their situation.
Trust me, someone always has it worse and I truly believe most of our biggest disappointments are preparing us for our greatest blessings.  
Your purpose doesn't have to be grandiose or revolutionary. However small or large your purpose, it will provide clarify to your life and give you a sense of accomplishment money can't buy.  Once you articulate and pursue your purpose, you will see others wanting to become a part of your journey and offering their resources to help you become successful.  There's a lot of truth to people always saying they've received helping hands when they needed it most.
3. Define an action plan: We all agree a business can't be successful without a business plan. We all make vacation plans before we get in the car and head off to our favorite vacation spot.  How many competitive athletes have specific training plans to help them achieve their goals?  Hint…all of them.  But how many of us have a specific plan on achieving our purpose and pursuing our passion? Is not pursuing our passion and fulfilling our purpose the most important things in life? If so, then shouldn't we take the time to carefully map out a plan to make them happen?
  If you don't take the time to identify the steps to help you achieve purpose you will confuse being busy with being productive.
Action without direction is wasted time.  I not only espouse this but I live it. My passion is to be ranked Top 1% of Ironman 70.3 ranked 40-44 males in the World.   I knew being ranked within the top 1% wouldn't just happen without a specific action plan.  To make my goal a reality, I hired a coach (a former Ironman 70.3 World Champion), designated 12-15 hours a week for training outside of my family/work commitments and decided what things I was willing to give up (i.e. tv) and what things I would never give up (time with my kids).  My commitment, my passion and my sense of purpose has made this goal not only a reality but a life changer…I am redefining what I thought was possible.
In a world where we are constantly bombarded with distractions (tv, social media, emails), it is easy to lose sight of the task at hand, things that can actually positively impact our life.  Sadly, most people aren't even aware they're distracted because they never had a clear cut plan to start with.  They are simply wanderers, hoping their purpose in life will one day be revealed to them.  In the meantime, they will just do as others do – wake up every day and do what they did the previous day in hopes it will bring a sense of purpose and fulfillment.  To their surprise, each day brings the same ambiguity and lack of purpose.  Don't' settle for a life without purpose!  You owe it to yourself and to your family to be all that you were designed to be.
ABOUT SHAY
Shay is an All American and World ranked triathlete, burn survivor with scars over 65% of his body and is a sought out national motivational speaker. Despite being told he'd never compete in sports again at the age of 8, Shay is living testament to "Anything is Possible": 4x Ironman, 4x member of Team USA, ranked top 1% of Ironmen worldwide and has competed in 9 triathlon world championships, including the Ironman World Championships in Kona, Hawaii. His mantra has always been to not merely be a "finisher" but to be a "competitor." If you enjoyed this article, I encourage you to check out my other posts.