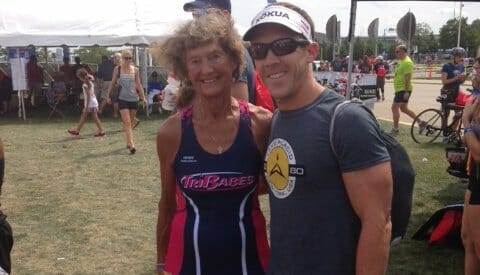 Are we too old to pursue dreams? The Iron Nun begs to differ. You don't know the infamous Iron Nun? Sister Madonna Buder is an 83-year old Ironman triathlete who holds the distinction as being the oldest woman to complete an Ironman – a 2.4 mile open water swim with 2,000 of your closest friends, followed by a nondrafting 112 mile bike ride with a 26.2 mile marathon to finish it off, all within 17 hours. Sister Madonna started competing in Ironman at the ripe age of 55, an age when many are considering retirement options and dreaming of playing multiple rounds of golf during the work week. I've had the pleasure of meeting Sister Madonna at multiple triathlon races; her personality and spirit just radiate life. I'll never forget her comment at the prerace dinner at the 2012 Ironman World Championships when asked why she was still racing. "I couldn't let the men go unchecked (referring to Lew Hollander, 82 year old male racing). Someone had to represent the women." Can you imagine your grandmother talking trash? That was AWESOME! I want to be competitive like Sister Madonna when I get that age. How many 83 year old people would be happy just to walk around the mall, much less complete one of the hardest one day endurance events in the World?
Pursuing our dreams
As kids, we all had dreams and everyone encouraged us to pursue them. I wanted to be a professional athlete and play for the Steelers – loved Mean Joe Greene. We were asked constantly "What do you want be when you grow up? What are your dreams?" Many of us had posters in our rooms that said "All our dreams can come true if we have the courage to pursue them – Walt Disney." If pursuing dreams were so important as a kid why do we suddenly abandon those pursuits when we graduate college, get married or have children? Who said achieving those milestones and pursuing your dreams are mutually exclusive? Why can't we have our cake and eat it too? I believe we can if we have the dedication to commit and the perseverance to make it happen. We should pursue our dreams even if we will never hit them.
It is the pursuit that motivates us, gives us the energy and zest to welcome the challenges of each day.
We all know paychecks don't always make us happy, although they sure help relieve stress. How much more complete would your life be if you were successful at work and pursued childhood dreams at the same time?
We all have excuses and that's just what they are. I didn't say it would be easy but I guarantee it will show you a life you never imagined possible. If there's one thing I love about Ironman it's that everyone has a story and you meet some of the most inspirational people in the world. Rajesh Durbal is definitely one of those people. He was born missing bones in both legs and partially developed in one arm. At the age of 1, both legs were amputated, rendering him a triple amputee. It didn't stop Raj. At the age of 30, he became the first triple amputee to complete an Ironman and beat many full bodied athletes. He is a competitor at heart and you can see in his smile that he is pursuing his dreams daily. Don't even get me started on the Dick and Rick Hoyt story. If you need motivation, just look around. They're out there every day beating the pavement, making their dreams come true.
I have always been competitive in sports but I too gave into the worldly belief that I had to sacrifice everything to be successful at work. My fitness morphed even further after getting married and having kids. I had a great excuse… I was busy. Who isn't? I was busy… busy wasting time that could be diverted to feeding the competitive spirit I craved and the completeness from pursuing something bigger. I can personally attest that my life has never been the same since I completed my first Ironman. I am in better shape at 40 than I was at 22 – I weigh less now that I did at 19 (we won't talk about hair lines). I am more successful at work now than ever and feel the secrets of success have slowly been revealed the more I pursue my dreams. I have made some tradeoffs to achieve my triathlon goals (mainly tv) but my marriage of 11 years and 5 kids have never been sacrificed. I get up every morning at 4am and complete my workouts before work and during lunch breaks. I keep a workout bag in my trunk and never turn down 20 minutes to work out. I also travel 2-3 days a week for work and have never found a hotel I couldn't get in a solid workout.
We're never too old… anything is possible! Did I mention I have never beat my 60 year friend in a triathlon? He is #1 in his age group in the World though. My goal is to beat him before he turns 83.
ABOUT SHAY
Shay is an All American and World ranked triathlete, burn survivor with scars over 65% of his body and is a sought out national motivational speaker. Despite being told he'd never compete in sports again at the age of 8, Shay is living testament to "Anything is Possible": 4x Ironman, 4x member of Team USA, ranked top 1% of Ironmen worldwide and has competed in 9 triathlon world championships, including the Ironman World Championships in Kona, Hawaii. His mantra has always been to not merely be a "finisher" but to be a "competitor." If you enjoyed this article, I encourage you to check out my other posts.