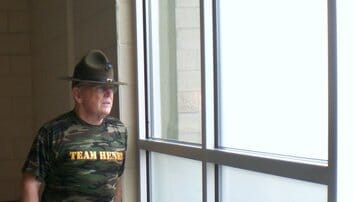 65 years old, stage 4 pancreatic cancer and this Marine had no regrets nor any bitterness about the cards he had been dealt. Faithful husband, father of 2 grown kids, man of God and he impacted thousands of people with his passion for life. Meet Henry Forrest, one of the original 12 Ironman finishers from 1978 who introduced me to a world with no limits… anything is possible!
I never back down from a challenge
I'll never forget meeting Henry in November of 2007. I worked in a high-rise in downtown Atlanta and utilized my lunch break to enhance my physique – work on the "gun show" as I used to say. I would throw around heavy weights all in an attempt to increase my chest and biceps, ensuring my manliness was intact. Well… that all came in question when Henry, then 64, approached me in the locker room. He said, "hey tough guy, why don't you join me and some ladies for my boot camp class." Intrigued and thinking to myself, does this old timer know who he's talking to? He obviously didn't know how much I benched or squatted. I asked, "so what's involved in this little boot camp class." Henry responded, "it's pretty simple, basically all the exercises you did in grade school, pushups, sit-ups, squat thrusts, mountain climbers, nothing too crazy. Shouldn't be anything for a guy like you with all your muscles." Really, this 64yr old had to throw that in there? I should have seen the bait but I never back down from a challenge. So I took Henry up on his challenge and walked over to his boot camp class.
He didn't lie. It was all women, and Henry obviously had no problem wearing spandex and a t-shirt as his standard instructor garb. For reference, Henry still sported a Marine haircut, barrel chested and didn't look the look of a typical 64 year old man. Class started easy and progressively got worse. In 20 minutes I was in tears and physically unable to complete some of the "core exercises." I suffered through another 20 minutes until it came time for pushups. I drew a sigh of relief and thought to myself, I'm going to show this old-timer who he's messing with. No sooner than we started, Henry drops down beside me and starts cranking out set after set of pushups. I couldn't keep up. He absolutely crushed me and there was nothing I could do. To add insult to injury, he then shouted in my face "pony tail's are kicking your butt, you better pick it up boy." All I could muster in response was "yes sir."
I went home and told my wife the story and committed to her that I'd work myself back into fighting shape. My ego was crushed by a man 30 years older than me. Shortly thereafter I realized he was a retired Marine drill sergeant, one of the original Ironmen from 1978 and still an active triathlete who had recently completed an Ironman. This was no ordinary 64 year old. I started attending his classes 3 days a week for the next 3 months and was back in shape worthy of a new wardrobe. However, during this period Henry became diagnosed with stage 4 pancreatic cancer and was given 3 months to live. Everyone was devastated but Henry didn't quit. He made it a year, survived the 'whipple procedure' only for it to strike again with a vengeance. How could a man this fit and this full of life have such a deadly disease?
Unfairness in life
He and I became good friends shortly after the initial diagnosis and we shared experiences that had shaped our lives – me being burned as a child and him getting cancer. We talked about the "unfairness" in life and how our reaction to adversity determined the men we had become. We took comfort in each other's story knowing God had bigger plans for us and it's not up to us to judge how things appeared. We agreed that we had enjoyed so many blessings how we could we possibly complain. He recounted stories of his military career and how easily it could have been him killed on the battlefield like so many of his friends – one story still imprinted in my head of a friend who accidentally knocked Henry back into the foxhole only to be shot seconds later. He told me of other stories that reinforced just how precious life is and how we should cherish every minute and never take God's gifts for granted. True to form, Henry continued teaching the boot camp class up until the last weeks of his life, never scared to yell, "don't you feel sorry for this old man, get your double wides moving." He was living proof that life can get better with time and our purpose in life should be centered on helping others realize their dreams.
Right before Henry passed, a group of 7 of us fellow boot campers committed to Henry that we would race the next biggest triathlon in his honor, regardless of the distance. That race happened to be a half Ironman (1.2 mile swim, 56 mile bike and 13.1 mile run). We all spent the next 4 months training our butts off knowing Henry was watching and we couldn't let him down. It's amazing how enjoyable the training became, invigorating. It revealed a life where goal setting took on a whole new meaning. We learned the value of focusing on the daily things and never losing sight of our goal. I never would have imagined doing one of these races had it not been for Henry.
Team Henry
Race day came and went. We sported "Team Henry" shirts and know Henry would have been proud. Surprisingly enough, a week after the race our group of 7 gathered to celebrate and tell Henry stories when someone tossed out the idea of doing the Ironman. Long story short, I left the party that night with a registration form to race Ironman Florida just 5 months later. Call it a miracle or an act of God, I raced Ironman Florida on the 1yr anniversary of Henry's passing. How crazy is that? It was completely unplanned and I had not even pondered the date until I ran into Henry's daughter the night before the race. I'll never forget her comment, "daddy will be watching, and he'll be smiling."
Six years and 3 kids later (5 total) I am still racing and doing things I never thought possible. I truly believe Henry was placed in my life for a reason and I'm so thankful my heart and my ego were open to his message. His words of wisdom have carried beyond triathlons and into my career. This day reminds me of all those who have selflessly given of themselves so that the rest of us can enjoy our freedoms and pursue our goals. I could never repay all those who have served and hope they know my family is eternally grateful.
In the words of Henry Forrest: "The hotter the heat, the stronger the steel."
ABOUT SHAY
Shay is an All American and World ranked triathlete, burn survivor with scars over 65% of his body and is a sought out national motivational speaker. Despite being told he'd never compete in sports again at the age of 8, Shay is living testament to "Anything is Possible": 4x Ironman, 4x member of Team USA, ranked top 1% of Ironmen worldwide and has competed in 9 triathlon world championships, including the Ironman World Championships in Kona, Hawaii. His mantra has always been to not merely be a "finisher" but to be a "competitor." If you enjoyed this article, I encourage you to check out my other posts.