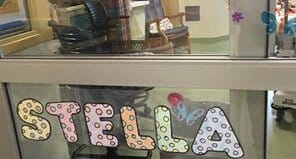 Day 8: June 17, 2016 (actual Facebook post)
Has it really been only 8 days since we walked through the ER door at Vanderbilt Childrens hospital? It feels like 2 months. I haven't slept in my bed since Jun 9th nor have I had more than 3 hours away from the hospital since then. I'm not complaining nor would I do things differently if given the opportunity. Brooke and I both agreed we needed to be with Stella until she is out of the hospital; she absolutely needs us and we could never live with ourselves if something happened and we weren't there – 'not on our watch' as we like to say.
We have been on the PICU floor longer than any other child surprisingly, witnessing at least 10-15 kids cycle through here while we remained in the same room (3 just in the room next to us). It takes a toll on you mentally to watch them empty out the room and reset it in anticipation for another patient. Sadly, it has started to feel like home here. We know all the nurses, attending doctors, fellows, residents and respiratory therapists. The fellows already know what question I'm going to ask them every morning as they walk us through Stella's current condition – what is our goal today and how will you measure success? Everybody knows Stella and many have taken a genuine interest in her health. Several of the staff have stopped by her room, even though they're assigned to another ward or another patient, just to say hello and see how she's recovering. She's earned herself a reputation as someone not to bother, she's easily rattled and no one takes offense. She's got the fight in her.
However, our residency changed today. Shortly before lunch we were escorted out of PICU and up to the 7th floor. We were thrilled to leave as this was based strictly on her health improving but we knew we'd miss the one on one attention and comradely we've built over the last 8 days. I have learned a lot about each one of her nurses and they about me. I would stay up talking with them every night until 4am and then Brooke would take over so I could get some sleep. You really learn a lot about these nurses and I was intrigued to learn why they did what they did and why they chose to focus on children. Surprisingly, there were 2 common themes – kids have much smaller poop to clean up and generally kids are in the hospital because of an accident, not some self inflicted wound like many adults.
Leaving PICU almost bright me to tears. I felt I was saying goodbye to longtime friends. If you think about it, many of them had a serious impact on something that means the world to me – little Stella. Her caregivers watched Stella battle back and they also watched us struggle to accept our new reality. My heart always goes out to healthcare workers as they see patients at their lowest moments in life and very rarely see them once they've made a full recovery. Imagine how these nurses and doctors would feel if they could see the long term impact they had on their patients lives. The PICU teams saw us in our most vulnerable state and that is not something I share with many people. It really makes you re-evaluate life in general and question if your daily interactions would be different if you knew everyone's story. Everyone has a story, some are just better than others at sharing. One of our nurses had 6 kids and we just exchanged kid stories for hours – although none of her kids trimmed her cat with scissors or covered her bedroom wall with Vaseline.
We are slowly adjusting to our new freedom on the 7th floor and excited as it puts us one step closer to going home. We were able to take Stella outside in a wagon this morning and pull her through their little garden. Having her out of the room for just 30min made us acutely aware how much her health had declined. She was exhausted and seemed overwhelmed by all the stimulation. We def have our work cut out but excited we can see the promise land on the horizon. Stella is still battling with withdrawal from being sedated so long but she continues to show improvement. One of the biggest steps she took today was eating solid food. Her first meal was a snicker doodle cookie from #JakesBakes. I tried healthier options and it came down to a cookie or nothing. I ate one with her so she wouldn't feel too bad about the empty calories.
I can already see Stella's disposition changing, at least temporarily. She really loves Brooke and I to hold her hand, which I'd do all day every day. I can see us building a unique bond that will unite us even closer. We all have unique experiences with our kids and this one is really special. I still have memories from getting burned as a kid that created a special bond between me and my parents. We love you sweet little Stella and I'm so excited about the woman you're going to become one day – just hopefully that's at least 25 years down the road.
To read about Stella's journey from the beginning, read Day 1: Watching our 2yr old fight for her life… 10 days to be Thankful!
ABOUT SHAY
Shay is an All American and World ranked triathlete, burn survivor with scars over 65% of his body and is a sought out national motivational speaker. Despite being told he'd never compete in sports again at the age of 8, Shay is living testament to "Anything is Possible": 4x Ironman, 4x member of Team USA, ranked top 1% of Ironmen worldwide and has competed in 9 triathlon world championships, including the Ironman World Championships in Kona, Hawaii. His mantra has always been to not merely be a "finisher" but to be a "competitor." If you enjoyed this article, I encourage you to check out my other posts.