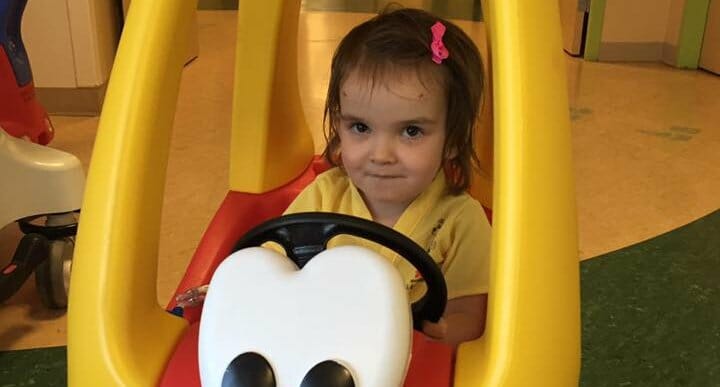 Day 9: June 18, 2016 (actual Facebook post)
Our celebration of Father's Day today was what Father's day was meant to be… just kids being with their father. There was no fancy lunch. Instead, Nonna (Brooke's mom) brought the kids to the hospital and we ate pizza across the street from the hospital while Nonna sat with Stella. There was no getting dressed up in our Sunday best. Instead, Brooke and I wore our daily hospital garb (jeans and t-shirt) and were perfectly accepting of our disheveled look. There was no organized chaos trying to get the kids to pose for pictures. Instead, we were focused on letting the kids interact with Stella to ensure they weren't overwhelming her. They are always super excited to see her and have a hard time not touching and petting her like a puppy. This Father's Day was nothing like I or Brooke had planned 2 weeks ago, but we couldn't have imagined spending the day doing anything different.
9 days ago I seriously thought there was a chance this would be the worst Father's Day ever. I thought it would have the same meaning in our family as 9/11, Pearl Harbor and other days people have lost loved ones –
why does it always seem we lose loved ones close to holidays?
I am eternally thankful that was not the case. It was definitely the most scared I have ever been in my adult life. I say adult life because when I was burned as a kid I think I was protected by my innocence. I really had no clue about the severity of my injury whereas now I fully comprehend what was at risk. As parents, we'd all willingly endure any amount of pain to spare our kids any amount of suffering.
Stella is progressing but we are truly on the world's tallest roller coaster ride. Just in the last 36 hours we have climbed the summit of Mt Everest and dove to the bottom of the deepest oceans.
We've went from watching Stella eat a snicker doodle cookie to being told no food for 24hrs. We've went from being told we can take her anywhere in the hospital to being told she might need to be quarantined in the room for 48hrs for a RVP test. We're elated, confused, hopeful and anxious all at the same time. What we have learned is being an advocate for your child's health pays off and don't be afraid to ask questions. We are in no way as smart as her Doctors but we do know little Stella and that counts for something. Ignoring the confusion around Stella's treatment post PICU, the withdrawal from coming off the pain meds after 7 days is really playing with our minds – especially at nights. As I began typing this update, Stella started shaking/tremoring in the fetal position and her eyes started to twitch. I immediately cut on the lights and started calling her name. Luckily, she looked at me right away and the tremors subdued quickly. Fortunately but unfortunately, Brooke prepared me for this as she had witnessed this unfold several times last night, each time causing concerns as the nurses were wondering if she was having a seizure. Needless to say, I'll be sleeping next to her bed with one eye open. Perhaps this is our new reality but we're told this will pass in due time. We can only pray for the best and accept whatever comes our way.
This whole week has really taught me we put way too much effort into "doing something special" for celebration days as opposed to focusing on being in the moment and enjoying the time with loved ones. I'm as guilty as anyone. I always want to do something extra special and make these days memorable. Brooke's birthday was this past Thursday. I had a few ideas on what to get her and had planned on going shopping at her new favorite store this past mon and tues since I wouldn't be traveling for work. Needless to say, she had to settle for the Publix birthday cake and adult coloring book (no it's not what you think) I had actually ordered 2 weeks ago. I felt horrible that on her special day I had no big presents to give her. The feeling of inadequacy quickly vanished when I realized she completely understood and was thankful for the cake and coloring book but more importantly Stella was recovering.
The same thing also happened with my dad for Father's Day. I called him early this morning to wish him a Happy Father's Day, but felt horrible I hadn't sent him a card or anything. My shame was instantly forgotten as we both talked and even just sat there in silence – we were both holding back the tears knowing we both had come very close to losing a child. We didn't really have to say anything, just "I love you" and "these times will pass." After my call with dad I couldn't help but feel a little taller, a little more focused on making the most of every day and never feeling guilty of how things turn out. At the end of the day you can only do your best and those who know and love you will always know you live your life with passion.
Thanks for the continued prayers for sweet Stella. It felt so incredibly awesome to hold her in my arms today and read "Pat the Bunny" nonstop with her saying "again" after each reading until she finally fell asleep. As I put her in her little bed I wanted so badly to lay beside her. Brooke has already prepared me that she'll be sleeping with us when we get home and there was no argument from me. It's so hard as parents. We want to hold and protect our children every minute of every day but it's just not possible. We all know we can't protect them from every danger in the world nor do we lose that feeling even when they're all grown up (as every parent keeps telling me). All we can do is just live life and live to the fullest. Eternally grateful for ALL our blessings.
To read about Stella's journey from the beginning, read Day 1: Watching our 2yr old fight for her life… 10 days to be Thankful!
ABOUT SHAY
Shay is an All American and World ranked triathlete, burn survivor with scars over 65% of his body and is a sought out national motivational speaker. Despite being told he'd never compete in sports again at the age of 8, Shay is living testament to "Anything is Possible": 4x Ironman, 4x member of Team USA, ranked top 1% of Ironmen worldwide and has competed in 9 triathlon world championships, including the Ironman World Championships in Kona, Hawaii. His mantra has always been to not merely be a "finisher" but to be a "competitor." If you enjoyed this article, I encourage you to check out my other posts.