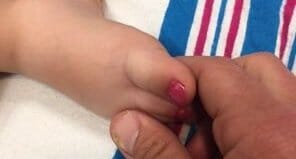 Day 4: June 13, 2016 (actual Facebook post)
We have settled in and embraced the journey. There is not much to update today and that in itself is progress. She is still on the ventilator and probably will be for a couple more days if things continue trending positive. I think Brooke and I truly believe she will get better and come home; we just have to be patient and let Stella's body do it's thing.
Personally, for me today has been a spiritual journey, one that has brought lots of clarity. I took a little run this afternoon to get my thoughts together and get the mental recharge I needed to be a pillar of strength for Stella, Brooke and my other kids. As I took each stride, I began to see what God was trying to teach me. I/We were not in uncharted waters; maybe different from anything we've experienced on the surface, but at the core it was not anything we couldn't handle. We are fighters and we have both had our fair share of hard times over the years. As 1 mile turned into 2 miles I began to feel lighter. It was as if each breath I took was a breath for Stella. I continued running with the conviction that each breath was somehow pumping life into my little Stella.
It was somewhere between mile 3 and 4 that I was able to put our situation into terms I could understand. A war had been waged on my family June 10th at 4:20pm. Without any provocation, something tried to take my little Stella from us. That something thought it could shake our faith and convince us to surrender. Like most battles, we suffered some bruises, body piercing lacerations and even lost some body parts. A piece of my heart is still on our floor where the EMT was trying to stop her seizures. That part of my heart has been hardened but it continues to beat with even more sensitivity to love for my kids. We may be battered but not deterred. We stood our ground and prevented the siege on our family. We did not surrender nor will we ever.
The initial battle has passed and our wounds are beginning to heal. Like most wars, coming to terms with the initial shock is half the battle. We now know what we're in for and are fully prepared to take it head on – whatever it may be we are fully accepting of our fate. Moments like these may scare some but it only makes me even more thankful for all the blessings in my life. A question worth asking is does adversity make you thankful, does it make you regretful or does it just make you bitter. I can honestly say I never dreamed of a life this rewarding and fulfilling when I was a kid. I never thought I'd have the opportunity to find someone to love and share my life with – much less someone who would give me not 1 but 5 amazing kids. I just wish every parent knew how lucky they are to have kids. If they did, would they live their life a little different? As parents, do we live our lives so that our kids are as proud to call us their parents as we are to call them our kids? Right or wrong I try to assess my life on whether I can rest easy knowing I did everything to make life better for my kids. Did I do everything I could to prepare them for the real world. My goal is never to remove the pains in their life but rather to teach them that everything worth having in life requires sacrifice and commitment.
When we started our journey as parents, I could never wrap my head around loving a 2nd child as much as you love your first, much less loving all 5 equally in their own ways. But by the grace of God, with each kid my heart is filled with new love, an unwavering source of love that knows no boundaries or limitations. It's hard to believe you could love something so much. As my run came to an end, I became confident we're going to win this war. We may lose a few battles along the way, but we're going to continue fighting and win the war. I am thankful for all the continued prayers and I know God has a special plan for little Stella.
To read about Stella's journey from the beginning, read Day 1: Watching our 2yr old fight for her life… 10 days to be Thankful!
ABOUT SHAY
Shay is an All American and World ranked triathlete, burn survivor with scars over 65% of his body and is a sought out national motivational speaker. Despite being told he'd never compete in sports again at the age of 8, Shay is living testament to "Anything is Possible": 4x Ironman, 4x member of Team USA, ranked top 1% of Ironmen worldwide and has competed in 9 triathlon world championships, including the Ironman World Championships in Kona, Hawaii. His mantra has always been to not merely be a "finisher" but to be a "competitor." If you enjoyed this article, I encourage you to check out my other posts.