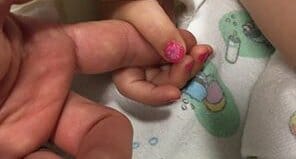 Day 5: June 14, 2016 (actual Facebook post)
Although there were no big milestones today, she did manage to improve all her ventilator vitals, putting us that much closer to getting her off the breathing machine and that much closer to eventually going home. The more I pressed the docs for the magic numbers to signify she'd be ready to come off the breathing machine, the more I kept realizing I was trying to force a recovery that might eventually sacrifice everything we're working towards (don't worry, the docs would never compromise on her health). It's so true with life.
Instead of savoring the journey, we want to rush to the end.
I once heard a priest say he was most thankful for the ability to suffer as it put him that much closer to God.
As the morning hours gave way to night, I realized today was all about "perspective," putting focus on what really matters in life – Stella getting better! As much as I'd love for her to be healed by the weekend, it really doesn't matter how fast Stella heals, just that she heals. We're not giving up or going to quit just because it may take longer than we could ever imagine. We're also preparing ourselves that she could easily regress in her recovery due to unforeseen complications.
All day I found myself staring at her innocent little face and that tiny little body. All I can think about is holding her in my arms and squeezing her tightly. I can hear her saying "daddy" and "mommy" in my head even though she hasn't physically said a word in 5 days. I can also imagine holding her up over my head, looking into those big brown eyes and those eyes fixed back on me, even though we have only seen them open for a few seconds, unable to acknowledge we're in the room by her side. Sometimes I even think back to the last words she said to me Friday morning before I left for work – it actually wasn't even words but laughter as I was tickling her as she lay next to Brooke, wondering if I'll ever hear her laugh again. I assure myself I will not only hear her laugh again but it will be uncontrollable laughter as we roll on the floor and wrestle like I do with her brothers and older sister.
This week is teaching both Brooke and me about patience, letting God unveil his plan for us without us rushing to see what's at the end.
It's funny how we all say we trust God's healing hands but so often we expect that to come with a specific time table which we measure in weeks if not days.
What if His healing period for little Stella is a year, what if it's 2 years? We will do whatever it takes and just celebrate the fact we have our little Stella. Oh how I miss her so much and know she will think I'm crazy for refusing to let her go. I can't wait… but I must. Thanks again for all the continued prayers and please know they are working. I also ask for you to pray for others as we are not the only ones with sick loved ones.
To read about Stella's journey from the beginning, read Day 1: Watching our 2yr old fight for her life… 10 days to be Thankful!
ABOUT SHAY
Shay is an All American and World ranked triathlete, burn survivor with scars over 65% of his body and is a sought out national motivational speaker. Despite being told he'd never compete in sports again at the age of 8, Shay is living testament to "Anything is Possible": 4x Ironman, 4x member of Team USA, ranked top 1% of Ironmen worldwide and has competed in 9 triathlon world championships, including the Ironman World Championships in Kona, Hawaii. His mantra has always been to not merely be a "finisher" but to be a "competitor." If you enjoyed this article, I encourage you to check out my other posts.