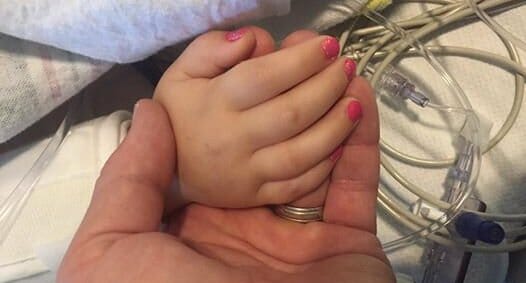 One of the hardest things as a parent is being strong for your kids when everything inside you just wants to breakdown and cry.
Nothing we learned in school or at work prepared us for staring into the eyes of our other 4 kids and assuring them without hesitation that everything will be ok. As parents, we always want to be open and honest with our kids, but we also don't want to prematurely rob them of their innocence by exposing them to the harsh realities of life. Pain exists. It is a very real emotion and is a great teacher. I tell myself daily our biggest struggles in life are preparing us for our greatest blessings…we just have to keep the faith and continue pushing forward when everything around us suggests quitting. I share with you Day 3 of our suffering and its reminder that we truly have much to be thankful for this holiday season.
Day 3: June 12, 2016 (actual Facebook post)
Today was much better than yesterday. We are now focused on small wins and excited to see some regression of the previous day's trauma. Little Stella is off BP meds but is now on heparin to combat the blood clot she sustained in her right leg after getting a central line – necessary evil to combat all the issues Sunday. The other 4 siblings were able to visit little Stella today. The staff provided great education to them on her condition to minimize the shock but I think it was still a lot for them to take in. I'll never forget our 8yr old asking Brooke if Stella will ever come home. We know they've had lots of questions and seeing her did help.
I just don't think it's natural for kids to understand sometimes things get worse before they get better.
I reminded them of my old burn photos and of their previous hospitalizations. Luckily I was able to slip away for a little while and take them out for some ice cream. Hopefully these little distractions remind them Brooke and I love them very much and dearly want to be back home with them and little sis.
I think we're hopefully on the upside but we now realize this is probably a longer path to recovery than originally anticipated. We are steadfast in our commitment to do whatever it takes and still thankful for our blessings. We are continuously amazed by the support of friends and loved ones and it does help ease the pain.
The nurses gave Stella a mani and pedi last night. The little things bring lots of hope that our little angel will be back in our arms soon. Hug your little ones extra long tonight. I am thankful we never take our blessings for granted and truly savor every minute with our kids.
To read about Stella's journey from the beginning, read Day 1: Watching our 2yr old fight for her life… 10 days to be Thankful!
ABOUT SHAY
Shay is an All American and World ranked triathlete, burn survivor with scars over 65% of his body and is a sought out national motivational speaker. Despite being told he'd never compete in sports again at the age of 8, Shay is living testament to "Anything is Possible": 4x Ironman, 4x member of Team USA, ranked top 1% of Ironmen worldwide and has competed in 9 triathlon world championships, including the Ironman World Championships in Kona, Hawaii. His mantra has always been to not merely be a "finisher" but to be a "competitor." If you enjoyed this article, I encourage you to check out my other posts.