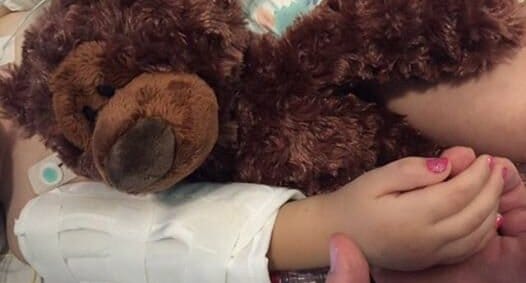 6 days into our journey to save our little Stella, we were painfully aware our lives would never be the same. We were painfully aware life wasn't fair and we had 2 choices… feel sorry for ourselves and play the victim card, or make the most of a bad situation and be thankful for all our blessings. The more I looked around in the hospital, the more I contemplated the miracles that saved her life – my wife sitting beside her when she had the seizure (we had CMA tickets and decided last minute not to go), I was less than a mile from home and not out of town on business, we had a world renown pediatric trauma center 15 minutes away (Vanderbilt Monroe Carell), my sister-in-law working at the hospital and she knew the entire attending staff, my mother-in-law was at our home and able to stay with our 4 other kids, friends taking our kids on play dates and giving them a sense of normalcy, co-workers visiting us at the hospital to take our minds off staring at her in the bed, and the list goes on. This Thanksgiving we are so thankful and hope our journey reminds you just how thankful we all should be!
Day 6: June 15, 2016 (actual Facebook post)
Never before have I enjoyed being still, sitting and doing nothing… until now. It's not so much that I enjoyed it as much as the feeling of calmness and innocence that it offered.
I can't count how long over the past 6 days I have sat next to Stella and done nothing but simply hold her little hand, touched her skin, ran my fingers down her arm and traced the outline of each finger, combed her hair to side of her face with my thumb, kissed her forehead, placed my hand on the top of her chest – feeling it slightly rise with each beat of her heart.
It was if she was an extension of myself – our hearts beating as one. I could almost feel her pain, feel her confusion as she tries to make sense of her surroundings, feel her loneliness as she lay isolated on the bed with all the wires attached to her body. But through it all I could also sense a fight going on within her. A fight for her life. A fight to be rid of all the unknowns in life that try to derail us from living a meaningful life. A fight to break the bonds of complacency. A fight to overcome whatever adversity comes her way. I could sense a warrior spirit.
Today I think I've truly experienced what I've always heard as a kid "this is going to hurt me more than you" (that was usually followed by a spanking mind you in my case). The assessment this morning concluded Stella is definitely making progress and likely to get her breathing tube removed in the morning. To hit tomorrow's milestone, the doctors outlined a plan to wean her pain meds and do some sample runs without ventilator assistance (CPAP). Stella stepped up to the challenge and aced her CPAP, 2nd test to occur tonight at 11pm. For the first time, she opened her eyes and kept them open for 5-10 minutes at a time.
For the first few hours, she stared aimlessly, unable to comprehend her surroundings but responding to mine and Brooke's voice. As the day progressed, she began to keep her gaze on us and intermittently would slightly shake her head "no" if we asked her a question or the nurse touched her (Stella doesn't like to be bothered and everyone on staff is well aware of that by now). It was utterly amazing but also eerily saddening at the same time. Also for the first time, we could actually see the true pain in her eyes.
We could see just how helpless and scared she must be feeling.
There was no misinterpreting the look in her eyes. Our emotions were so mixed – going from elation at having her see our love for her in our eyes and yet instantly switching to overwhelming grief at the terror consumed gaze in her eyes. It was obvious she was trying to come to terms with the large tube in her mouth and throat that muffled any semblance of sound. You could visibly see her choking at times but no sound came out. You could see tears in her eyes but no cries could be heard. Every time she winces with pain, I can feel the tears building in my eyes. I do all I can to hold them back so she doesn't see the sadness in my eyes. Luckily, these moments vanished as quickly as they appeared.
I find myself staring at the clock, praying for morning, praying for the morning shift of doctors that will remove the breathing tube that is the root of Stella's pain. I take comfort in knowing there is an end in near. I can see the finish line and anticipate sprinting across it with her in my arms. It may be in the morning but I am also prepared if complications arise and that time is delayed. As I look into her eyes, I can't help but believe she can truly see just how much Brooke and I love her. I believe she knows she is loved more than anything in this world and that her parents will walk through fire if that is what it takes. Each day has been a great character building opportunity. I am thankful for this experience, and the fact she is getting better, and I know it will only strengthen our family bond. A wise Ironman competitor, Henry Forrest, once told me "the hotter the fire, the stronger the steel." We have truly sharpened our steel this week. Thanks for the continued prayers.
To read about Stella's journey from the beginning, read Day 1: Watching our 2yr old fight for her life… 10 days to be Thankful!
ABOUT SHAY
Shay is an All American and World ranked triathlete, burn survivor with scars over 65% of his body and is a sought out national motivational speaker. Despite being told he'd never compete in sports again at the age of 8, Shay is living testament to "Anything is Possible": 4x Ironman, 4x member of Team USA, ranked top 1% of Ironmen worldwide and has competed in 9 triathlon world championships, including the Ironman World Championships in Kona, Hawaii. His mantra has always been to not merely be a "finisher" but to be a "competitor." If you enjoyed this article, I encourage you to check out my other posts.