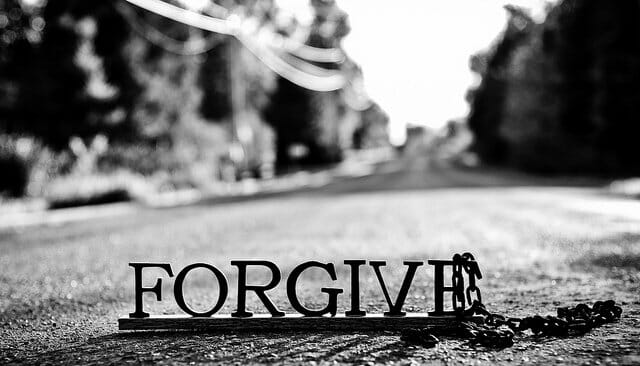 Forgiveness:  /fərˈɡivnəs/ noun – to stop feeling anger toward, to cease to feel resentment against, pardon
Scenario: Set afire by 15 year old neighbor's child at age of 8.  Endured 35 surgeries over 33 years, incurring well over $2M in uncovered medical expenses in first 2 years.
The Power of Forgiveness
I learned at the age of 8 forgiveness is a powerful and empowering tool. There is not a day goes by I don't look in the mirror and see a permanent reminder of what happened August 4, 1982.  Should I be angry?  Should I be angry my entire childhood involved kids staring and pointing at my scars – or that it still happens today?  Should I be angry it took over 3 years to regain use of my right arm and neck – or that I still have mobility limitations today?  Should I be angry I was left with uncovered medical expenses over $2 million?  Should my parents be angry their child was permanently disfigured and their life was forever altered due to the carelessness of a neighbor's child?
Many would argue YES… we had every right to be angry.  I would argue a right to feel angry doesn't mean you should.  What does it accomplish?  Would feeling angry take away my scars?  Would feeling angry take away the daily pain or give me confidence to feel at ease with my new self, scars and all?  NO, it wouldn't do any of these.  To the contrary, it would only make the situation worse.  Accidents happen, whether minor or life changing, and no amount of blame is going to rectify the situation.
Unlike sports, there are no "do-overs", "mulligans", "foul balls" or "instant replays" in the game of life.  What happens happens and you have 2 choices. 
Either accept the outcome and make the most of a bad situation
Feel sorry for yourself and play the victim card
Luckily for me my faith and belief in God plays a pivotal role in my forgiveness of what happened that day.  I know everything happens for a reason and that reason may not be clear to me, or to anyone, but it will be revealed one day.  It is that belief that all things happen for the good of HIS glory that I accepted my tragedy and decided to make the most of a bad situation. I can honestly say I NEVER recall feeling angry at the 15 year old or her parents.
I do recall being confused and asking God "why me", "what did I do wrong"? 
I shed many tears crying myself to sleep wondering if life would ever be the same, wondering if I'd ever play sports again, wondering if I'd ever be able to have a girlfriend – someone willing to overlook the scars and see me for who I am.  Over many months and even years, those tears hardened me and forged my resolve… my resolve and conviction God had a special purpose for my life and it was up to me to fulfill.  No excuses, no self-pity… just acceptance, perseverance and the will to never give up.
"Guess what?  I didn't give up, I didn't make excuses and I didn't feel sorry for myself." I looked around and saw hundreds of other kids who would die to have the opportunities I had been given.
How did I Forgive?
Hospitalized for 3 months initially and countless weeks over the last 33 years, I have seen my fair share of tragedy.  I have seen kids with no limbs, faces without noses/ears/eyelids/lips, bodies bound to wheelchairs… and yet these kids still smiled and greeted each day with joy and happiness.  I have seen firsthand no one is immune to tragedy – mine just happened to be physical whereas many suffer from emotional tragedy.  The more you experience life the more you realize we all deal with tragedy and it's what unites us in a common bond.  We have to embrace it, recognize it for what it is and what we will become as a result.  It is our ability to overcome (and forgive) that defines us.
People always ask "how did you forgive her"? It's easy.  I just say it was an accident and accidents happen. 
I have made hundreds of mistakes in my life and fortunately none have permanently impacted the lives of others. But that doesn't mean they couldn't have. I was just lucky they didn't. It's easy to look at our lives and be proud of ourselves and our accomplishments but too often we forget about the "what ifs" that didn't materialize.
Step 1: I realized early the questions and doubts in my life surrounding my burns only impeded my recovery and intensified my inferiority complex.  One of the first steps I did was focus on reshaping how I saw myself.  I knew as long as I saw myself as a "burn victim" I would always be just that in the eyes of others.  Instead, I wanted to be known as an athlete so I focused on getting back to competing in sports. Two months after being discharged from the hospital I played baseball, although I was unable to lift my right arm above 90 degrees or hold my head up straight.  I wasn't an All-Star by any means but I was out there every game, competing with everything I had. However, 6 years later I did make the traveling All-Star team.  I also managed to become an All American wrestler in high school, an undefeated boxer in college and currently a 3X All American triathlete.
Step 2: I realized my being burned was no excuse for not being successful in life.  In reality, everyone deals with adversity that could be used as an excuse for not realizing their full potential. If I wanted to make something of myself I realized I had to do it, no one was going to do it for me.  I also knew the road ahead would be tough – years of rehab and the acceptance that I'd have to work 5x as hard as anyone to just do what comes natural for most.
I had to embrace success wouldn't happen overnight and I'd have to measure my success based on my goals – not what everyone else was doing. 
21 years later I married the perfect woman for me and who would bless me with 5 amazing kids.  Fueled by doubters, I also climbed the corporate ladder and became part of the top tier of income earners in the country.
Who would have thought a 1 eared burn guy would be great at sales?  No one would, which is why I've been successful.
If you want a life of no burdens, no excess baggage due to blame and anger, forgive those who have wronged you and move on.  Life's too short to be angry!  You control your destiny and to let others impact your happiness is just crazy talk.
ABOUT SHAY
Shay is an All American and World ranked triathlete, burn survivor with scars over 65% of his body and is a sought out national motivational speaker. Despite being told he'd never compete in sports again at the age of 8, Shay is living testament to "Anything is Possible": 4x Ironman, 4x member of Team USA, ranked top 1% of Ironmen worldwide and has competed in 9 triathlon world championships, including the Ironman World Championships in Kona, Hawaii. His mantra has always been to not merely be a "finisher" but to be a "competitor." If you enjoyed this article, I encourage you to check out my other posts.