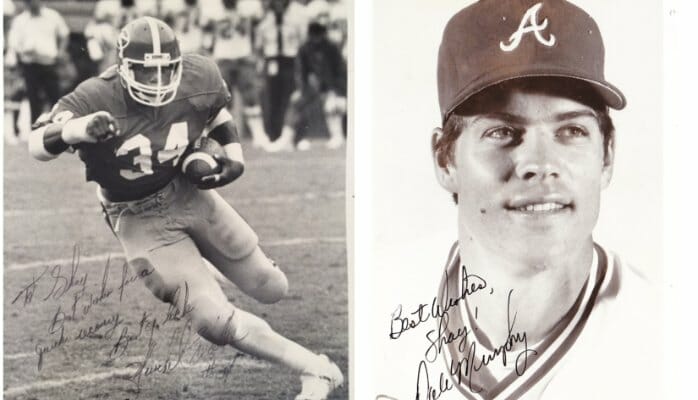 Thank you Hershel Walker and Dale Murphy. But also a special thank you to Jeff Van Note, William Andrews, Al Richardson, the 1982 Sugar Bowl Champion Georgia Bulldogs and the entire Atlanta Braves. All of these amazing athletes learned of my story through renowned sports caster Ernie Johnson Jr, who had just returned to Atlanta as a news reporter and ran a feature on me getting burned.
32 years later these guys probably have no clue how their simple act of sending me a signed autograph provided healing power. 1982 – I distinctly remember lying on my back for a month at the Shriner's Hospital for Children, staring up at these autographs almost every waking minute (had a piece of Plexiglass suspended above me that displayed all my 'get well soon' cards). I loved sports like any 8 year old and dreamed one day of playing in the NFL, breaking tackles like Hershel Walker and William Andrews. I dreamed of chasing fly balls in the outfield like Dale Murphy, cracking home runs like Bob Horner or turning double plays like Glenn Hubbard.
The power of hope
Although I was confined to my bed due to my injury, (all the skin harvested from both legs to repair the severe burns to my upper body, unable to use my right arm or turn my neck) I remember thinking how lucky I was to have all these star athletes send me their autograph. That's the joy of being a kid. We are easily distracted to believe in the power of positive thinking, to believe that anything is possible. I truly believed I could defy all odds and resume my athletic prowess. We so easily underestimate the power of HOPE, the power of giving a kid a reason to believe. Kids are moldable. Their shapeable minds can believe without quantifiable proof (cynicism comes with age). They believe in Santa Claus, the Tooth Fairy, the Easter Bunny and Elf on the Shelf without proof of their existence. Imagine if we trained them all to believe they could overcome any obstacle they will ever encounter if they just focus on doing their best and refuse to believe in failure. Imagine if we taught them sacrifice and hard work produce results and that success doesn't happen over night. Imagine if we taught them failure only occurs when you refuse to try again.
When I got out of the hospital, I immediately pinned each one of these autographs to my bulletin board on the wall next to my bed. These autographs staid affixed to that bulletin board until I left for college. Every day I would read these autographs and remind myself of my dream… to become a great athlete. It was a long road to recovery but we, parents included, focused on daily victories that would get me back in the game. 32 years later, I still look at these autographs to remind myself of where I was, where I am today and that anything is truly possible with hard work and the resolve to never quit.
Goal # 1: resume 3rd grade.
2 weeks after discharge I returned to school to finish the 3rd grade. We were told it would be 2 months before the open wounds would heal and returning to school was not recommended – physical and emotional reasons. Let's be honest. Kids can be cruel, especially when you see a kid with jaw dropping scars and bandaged like a mummy. Luckily we never listen. My mom picked me up from school every day at lunch, wiped away my tears, took me home, gave me a whirlpool salt bath, bandaged all my open wounds, returned me to school to finish my day and assured me things would get better. I finished the third grade with all my peers – straight A's. I don't know how we did it, but we did. I guess that was the key. We never stopped to think how are we going to do it…we just did it. We knew that was our only choice…failure was not an option.
Goal #2: resume baseball.
2 months after discharge I returned to little league baseball. I couldn't lift my right arm higher than 90 degrees, but I was able to throw the ball side armed. With an understanding coach, my dad of course, I played second base to minimize the throwing distance to ensure my throws could make it to 1st without a bounce. I didn't make the All Star team, but I did play every game and never received any special accommodations. The same rules for everyone applied to me. That's how I have always wanted to be treated…just like every other kid.
Goal #3: resume football:
7 months after discharge I returned to little league football. Football was always my favorite sport but a major risk because I had no nerves in my right shoulder, arm and top of my back. I still have no nerves everywhere I suffered 3rd degree burns. The fear was I could sustain a deep cut without ever feeling it and suffer major bleeding. I also couldn't sweat on 1/3 of my body, making body temp regulation a challenge with all the equipment. Throwing caution to the wind, I suited up and took the field. My dad customized my shoulder pads to provide extra padding – I didn't have any fat tissue on my right arm or shoulder. I never received one game ball but I never missed a game or a practice. I did the same drills as every other player and truly felt like part of the team.
Goal #4: excel at sports:
3 years after discharge I found God's gift for me. I had lost the physical ability to be competitive in sports that required touch and finesse (i.e. golf, basketball, tennis). However, I found I had a pain threshold greater than normal kids and I knew God had a bigger plan for my life. By fate, I was introduced to wrestling, a sport where I could compete against other boys my age and my weight, a sport where pain was guaranteed. What I learned was the sport often rewarded not the best athlete, but the best competitor, the one who could go the hardest the longest. By the time I finished high school, I had set our school record for the most pins in a season and qualified as an All-American, finishing 2nd in state. Even greater, our wrestling team had won the State Championships all 4 years while I was in high school, 3 of which I had played a major part.
In short, athletes have special gifts that go beyond the playing field. When used properly, they have the gift to inspire and create hope. At the end of the day, HOPE is what powers us to achieve our dreams. HOPE is what allows us to ignore the naysayers and push through the pain. HOPE is what allows us to ignore conventional wisdom and redefine what's possible. What we learn on the playing field carries over to our workplace and home. It is our duty in life to give others HOPE when they need it most. It doesn't cost a penny, just a little of your time.
ABOUT SHAY
Shay is an All American and World ranked triathlete, burn survivor with scars over 65% of his body and is a sought out national motivational speaker. Despite being told he'd never compete in sports again at the age of 8, Shay is living testament to "Anything is Possible": 4x Ironman, 4x member of Team USA, ranked top 1% of Ironmen worldwide and has competed in 9 triathlon world championships, including the Ironman World Championships in Kona, Hawaii. His mantra has always been to not merely be a "finisher" but to be a "competitor." If you enjoyed this article, I encourage you to check out my other posts.