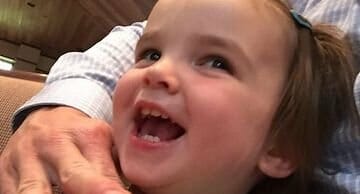 It is often said you never truly appreciate life until you are about to lose it.
As someone who nearly died at the age of 8 due to being set afire by a neighbor's child, I can assure you I have a new appreciation for the blessings in my life… the ability to walk, the ability to lift my right arm over my head and just the ability to even bathe myself. Introduced to pain and the unfairness of life at an early age, I can honestly say I have always looked forward to each day with enthusiasm and the chance to make a difference in the world. I can also say:
there is nothing I have wanted more in life than to have a wife, kids of my own, and the ability to give them the ability to see life through my eyes…see life for the daily miracles we are given.
Death is natural and we all know it will take us all one day or another, but we assume it will take us before our children. As a parent, there is nothing more sacred in our life than our kids. There is nothing we wouldn't do to prevent the suffering of our kids but we all soon realize we can't take away all the bad things in this world. Instead, we have to rely on our faith to guide us through these moments of despair to help us embrace these soul searching times for the stronger individuals we and our children will become. This Thanksgiving, I am sharing the 10 days of our dramatic journey as we watched our little Stella fight for her life.
Each day brought us closer to God and affirmed our belief that things work out for those who keep the faith.
Day 1: June 10, 2016 (actual Facebook post)
Prayers needed please! Our sweet little Stella suffered a severe seizure yesterday lasting over 2 hours and was finally stabilized late last night at Vanderbilt. She's still on the ventilator in an induced comma as she also incurred aspiration pneumonia during the seizure. They're working around the clock with meds to get her lungs healthy enough to breathe fully on their own. We've been assured she shouldn't suffer long term effects and know we're in good hands.
We're extremely blessed and a miracle in itself that Brooke was sitting beside Stella when it happened and didn't panic – she's always amazing in intensely stressful situations. Also extremely thankful I was almost home and able to be there although I will never forgot the image of my sweet baby laying there lifeless on our floor with EMTs working frantically to stabilize her. As a parent you'd do anything to prevent one ounce of suffering by your kids but you do trust God's will and mercy heals all pain. Thanks in advance for your prayers. Little Stella is a fighter and we know she'll bounce back.
Stayed tuned for the next 9 days of being Thankful!!!
ABOUT SHAY
Shay is an All American and World ranked triathlete, burn survivor with scars over 65% of his body and is a sought out national motivational speaker. Despite being told he'd never compete in sports again at the age of 8, Shay is living testament to "Anything is Possible": 4x Ironman, 4x member of Team USA, ranked top 1% of Ironmen worldwide and has competed in 9 triathlon world championships, including the Ironman World Championships in Kona, Hawaii. His mantra has always been to not merely be a "finisher" but to be a "competitor." If you enjoyed this article, I encourage you to check out my other posts.