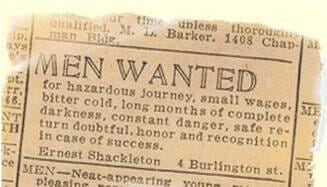 There is a lot of truth to how can you appreciate success if you never felt failure and how can you appreciate victory if you never felt defeat.   There is extensive research documenting some of the greatest success stories were and continue to be motivated by the drive to overcome status quo, which for many was rock bottom.  Our country was built on this premise and it's what defined us as a nation.  People came to this great nation in search of an opportunity to prove themselves, with no assurances other than a chance at a clean start.   Somewhere over the evolution of time we have come to believe pain, suffering and even sacrifice are something to be avoided.  The game of life rewards those who accept adversity and use it as motivation to be successful. In most success stories, you will find common themes:
Adversity. Hunger for a change. Realization the current situation won't achieve their goals.
Opportunity. Recognition of life changing situations. Belief hard work pays off.
Charity. Understanding life is bigger than just themselves. Recognition we all had help.
Adversity
Adversity is a common thread uniting us all.  Pain and the desire to remove it is one of the greatest motivators for changing behavior and habits.  People don't change without a reason or motivator.  They change because their current situation is painful and/or not in alignment with their goals – whether they're living paycheck to paycheck or they need to lose 50lbs.  Never was adversity more evident than in early industrialists such as Andrew Carnegie who started out as a poor Scottish immigrant and later amassed over $330B (inflation adjusted).  Our lifetime has witnessed the building of a media empire by Oprah Winfrey, molested as a child and so impoverished that she wore dresses made of potato sacks.  Hard to imagine this 13 year old runaway would later amass a fortune valued at $2.7B.  Imagine a life without the contributions of a poor Brooklyn housing child Howard Schultz, the son of a truck driver, who would later bring the Starbucks experience of $3 gourmet coffees and $4 lattes to over 16,000 locations worldwide. These stories of success were fueled by passion…passion to escape the hardships of their life and redefine the status quo.  Had Andrew, Oprah or Howard (insert hundreds of rags to riches stories) been born with a silver spoon, I am confident we would not know their names.
Opportunity
Opportunistic is a word you will never find in any MBA curriculum but it is the cornerstone of every entrepreneur's success story.  From my early days working in the Venture Capital industry I will never forget the wisdom of our managing principal,
"Our investments in startup companies are largely based on the executive leadership team and their ability to deal with the inevitable hard times.  Ideally, these companies should have owners who have experienced losing it all and perhaps even more than once."
The statement caught me off guard as I had always been taught to align yourself with winners.  But what I didn't know at 24 was that most winners in corporate America have experienced their fair share of losses and were able to leverage those experiences into success.  As is true in most of life, sometimes the biggest key is knowing what not to do.  The management teams we targeted were opportunistic…continually putting themselves in situations where they would either make it big or fail.  After a few of those make it or break it experiences, they learned the critical paths to success.  Some of our greatest entrepreneurs spent a lifetime refining their success model.  Look at the story of Ray Kroc, founder of McDonalds.  After losing his marriage and nearly the entire franchise, Ray finally realized the real money in franchising was in controlling the real estate.
Or look at Henry Ford, father of the assembly line and mass production.  It was Ford's commitment to lowering costs that jump started the concept of automobiling, allowing the common person to experience the luxury of automobile ownership (in 8 years, price dropped from $21,650 to $7,020 – CPI adjusted).  However, many aren't aware it was his machine apprenticeship training him to take over the family farm that provided the exposure to the Westinghouse portable steam engine and jump started his career.  Ford and Kroc realized opportunity when they saw it and had the perseverance to stay the course even when times got tough.
Charity
Being Charitable is a responsibility that often develops as a byproduct of success.  Some go into business with a passion for a greater good but many give back as a result of the help they've received in their rise to the top.  Regardless of acknowledgement, every successful person has been the recipient of generosity and unwarranted help, whether it be the 1st job we were unqualified to get or a teacher/coach investing extra time in us as they saw something special. Giving back is in vogue and at an all-time high, even garnishing such prestigious titles as "NFL Walter Payton Man of the Year Award".  The story of NFL All Pro Warrick Dunn, whose mother was gunned down by 3 armed robbers while a senior in high school, is truly inspiring.  Despite losing his mother and suddenly forced to provide for his 5 younger siblings, Dunn started his Homes for the Holidays charity immediately upon being drafted into the NFL to honor his mother.  His program has assisted over 115 single mother families attain home ownership.  It is my opinion that those who have experienced great adversity are often the biggest contributors to society through their stewardship.  The generosity of Dunn, Carnegie and Winfrey are nothing short of awe inspiring.
As you map out your path to greatness see how you measure up to the 3 big attributes.  We all face adversity, just in different ways – some physical, some emotional and some spiritual.  We all have access to life changing opportunities; many of us just don't recognize them when we see them or we're scared of the hard work and lack of certainty.  Lastly, charity is something we are all capable of whether it be time or talents.  It has been my personal experience the more I give of myself, the more blessings I receive.  A giving heart doesn't require a big checkbook, just a commitment to make a difference in the lives of others.
ABOUT SHAY
Shay is an All American and World ranked triathlete, burn survivor with scars over 65% of his body and is a sought out national motivational speaker. Despite being told he'd never compete in sports again at the age of 8, Shay is living testament to "Anything is Possible": 4x Ironman, 4x member of Team USA, ranked top 1% of Ironmen worldwide and has competed in 9 triathlon world championships, including the Ironman World Championships in Kona, Hawaii. His mantra has always been to not merely be a "finisher" but to be a "competitor." If you enjoyed this article, I encourage you to check out my other posts.